SurrealDB World 2023
Databases are essential cornerstones of the IT world almost since the dawn of computing. And yet all existing databases fall short in some areas. Before you know it your IT landscape employs multiple different databases and surrounding tools just to do a single job just right.
So how about a database that does it all without the need of all these additions?
Meet SurrealDB (Github. A brand new contender on the database market looking to be "the" database for everything. Today they've releaded version 1.0.0 after just over one year of intense development work.
I travelled all the way to London to feel the vibe of the team. Start-Ups often sound good on paper but meeting the team and an involved part of the community in person is a great way to get a real sense of what's what.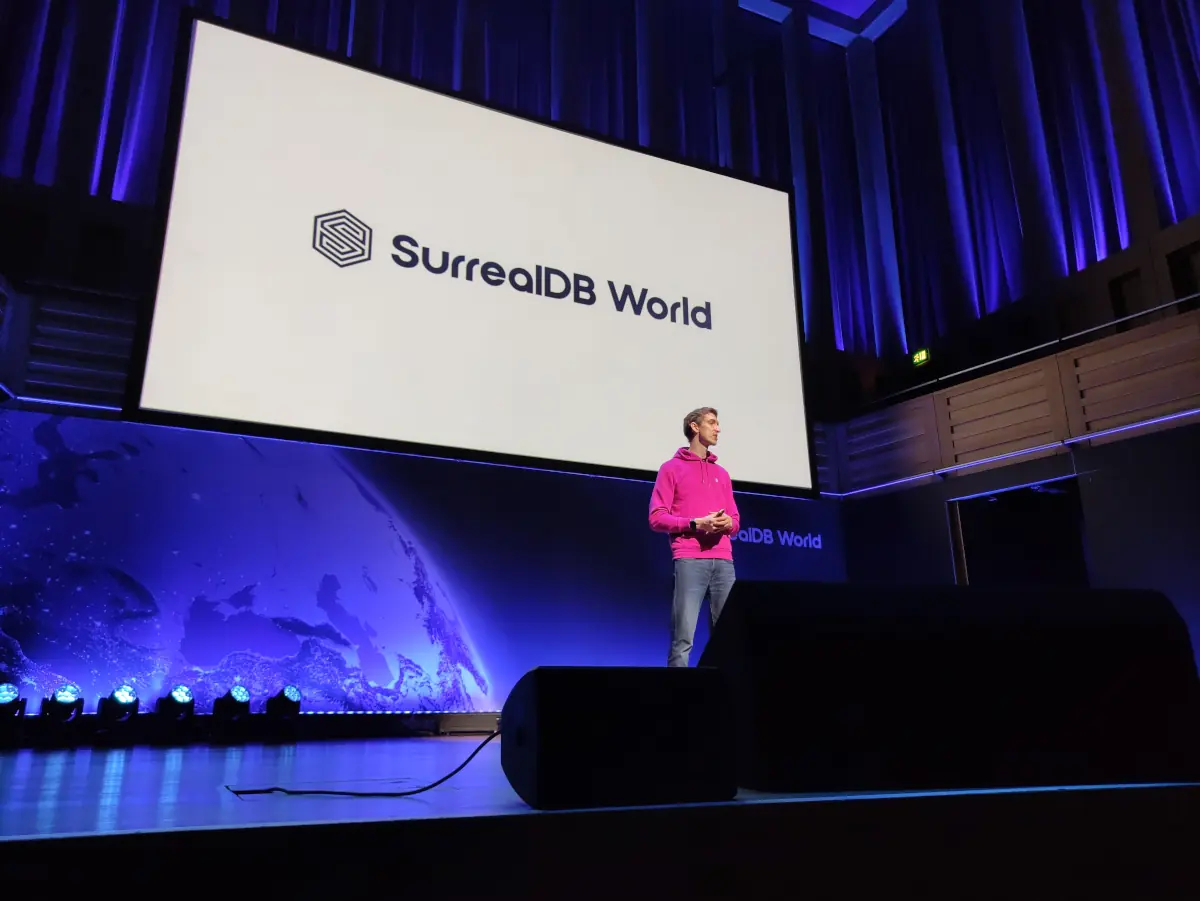 The keynote speech by SurrealDB CEO Tobie Morgan Hitchcock gave an energized speech about all the new features released alongside 1.0.0. As a developer the new LiveQuery Feature is very exciting.
Data scientists and AI engineers may be able to make some good use of the Machine Learning features. SurrealDB's versatile Indexing Features include full text support and shouldn't leave many out many options for building perfect indexes.
Sadly the replay is not (yet?) on Youtube. But you can head over to https://surrealdb.live/ to check it out in exchange for some data.
The same goes for all the other talks.
The event was hosted with style. More then 200 people attended in person plus another 2000 or so where counted online.
Prominent guests included Kelsey Hightower, Maxwell Flitton author of multiple influential Rust books and Jeff Delaney (the Fireship guy).
High quality hoodies where given to everyone who attended. I'm not a big fan of branding but I gotta admit that they kept it very decent. If you are interested in SurrealDB branded clothing ... well here's the Store.
The best thing however was to just meet people. A lot of techies but also a few non technical guests where present. I had a great time exchanging thoughts on SurrealDB with the other guests.
Overall I got the feeling that there is a lot of interest in SurrealDB but there's a lot of hesitation as well. After all if your database fails you are in deep trouble.
From a technical standpoint I deel like SurrealDB is all set to make it. They have the know how and the passion to pull it off. Heck it took them a year to create a beast of a database and the roadmap for what's coming next is exciting to say the least.
Where I do struggle however is that the fate of this open source database depends on the commercial success of a company that doesn't seem to really sell anything else then hoodies at the moment.
The business model aims at offering SurrealDB as a cloud solution. Think firebase. But so far this offering hasn't hit the market. Self hosting on the other hand is no problem for anyone curious and capable enough.
While I'm not seeing myself a customer of the cloud offering it could indeed be a great choice for businesses relaying on other cloud solutions already and may be looking for a "way out" or simply a better technical implementation.
So I personally hope to see SurrealDB as a business starting to carry itself and the cost of all that amazing development.
SurrealDB is exciting. It's much more then just another database. It's a breach with crufty old conventions without breaking the good stuff.
SurrealQL is extremely powerful yet simple to learn. The inbuilt features and flexibility fulfills that promise of being "the" database.
The team is beyond competent and everyone seems to really stand behind what they're doing.
I'm looking forward to take SurrealDB out of my lab and use it in a current real world project I'm working on right now.
A big thanks to the team of SurrealDB for hosting an incredible event and see you again in 2024 :)